Acciona.org Takes on its First Water Project in Chile
Renewables: The installation of a photovoltaic plant for the water pipeline network's pumps in Putaendo will allow about 500 families to save on supply costs.
acciona.org, ACCIONA's corporate foundation, which promotes universal access to clean energy, quality water and sanitation, has signed a collaboration agreement with the municipality of Putaendo, located in the mountain range of the Valparaíso region, for the development of its first water supply project in Chile, which will benefit around 500 families.
The agreement involves the installation of a photovoltaic plant, which will be used as a supplementary energy source for pumping water to the local supply network.
The project will benefit the communities of Los Patos, Casa Blanca, Población Hidalgo and Piguchén, where about 500 families live, reducing their water bills.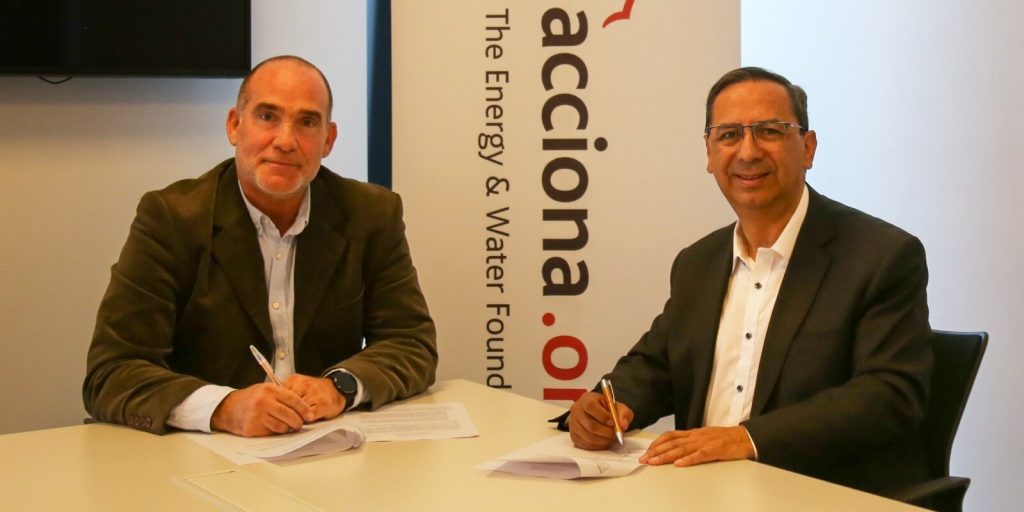 The mayor of Putaendo, Mauricio Quiroz, said, "Having a system of photovoltaic panels for rural drinking water systems will provide economic relief to 500 families who live in rural areas far from the centre of the town. We are talking about rural families, small-scale farmers, schools and health centres, so this is a gain that will have an impact on the entire community."
The communities obtain drinking water thanks to a 200-metre-deep well, whose pumping system is supplied with energy from the power grid, to which a 75 kWp photovoltaic plant will be added, made up of 138 solar panels, with an annual generation capacity of 86,351 kWh.
"The signing of this agreement with the municipality reflects the vast collaborative work we have carried out with various authorities over the last year, which will materialize with the installation of this photovoltaic plant that will contribute to guaranteeing universal access to water, such a necessary commodity. Our aim is to ensure long-term affordable supply, which is why we will take care of the plant's maintenance so that the service is kept up over time," said Rodrigo Soto, manager of acciona.org in Chile.
Water Scarcity
Until a few years ago, the towns of Los Patos, Casa Blanca, Población Hidalgo and Piguchén were supplied with surface water from streams and canals. However, the long drought that has affected the central region of Chile has forced the commune to look for new sources of water supply, building deep wells.
Chile's Ministry of Public Works has been key in the search for solutions for new supply sources. In the case of Putaendo, the Directorate of Water Infrastructure Works (DOH) made an investment of more than 1 billion pesos (more than EUR1.1 million) for the construction and fitting out of a 200-metre-deep well and storage tanks to provide drinking water to the communities 24/7.
In 2019, Putaendo became an example of the ravages caused by an unprecedented drought in central Chile. As indicated by mayor Mauricio Quiroz, "that year we had the highest number of animal deaths due to lack of water, but today we are still living one of the longest and deepest cycles of water scarcity in the last 50 years, so we have a tremendous challenge as a commune to adapt to an accelerated climate change and a drastic decrease in water availability. This scenario makes acciona.org's contribution especially significant to improve efficiency in the management of the little water we have."